FoE Team
Community Manager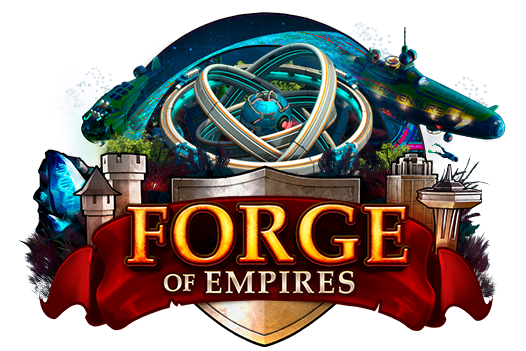 Dear Kings and Queens,
We are proud to present a brand-new Age
— Space Age Jupiter Moon (SAJM).
The Space Age Jupiter Moon starts on 25th of April, 2022​
Mankind has triumphed over energy, transportation, and nourishment. However, cosmic rays and electromagnetic radiation hinders further exploration possibilities. To solve this challenge to our species, our best minds have gotten together and found a solution.
They look to Jupiter's Moons, to the aquatic lifeforms which have developed resistance to harsh cosmic waves and radiation (in the form of a bioluminescent protective layer).
They believe through cultivating this lifeform, and splicing its exotic genes with ours, that we can better withstand space's unforgiving radiation.
However, to accomplish this, this gene needs to be refined and adjusted to our forms. Furthermore, it needs to be tested extensively. Due to the fragility of this gene, this can only be done on the Moon itself, underwater in its natural habitat.
Will you triumph in this pursuit? Join us and play Space: Age Jupiter Moon on April 25th!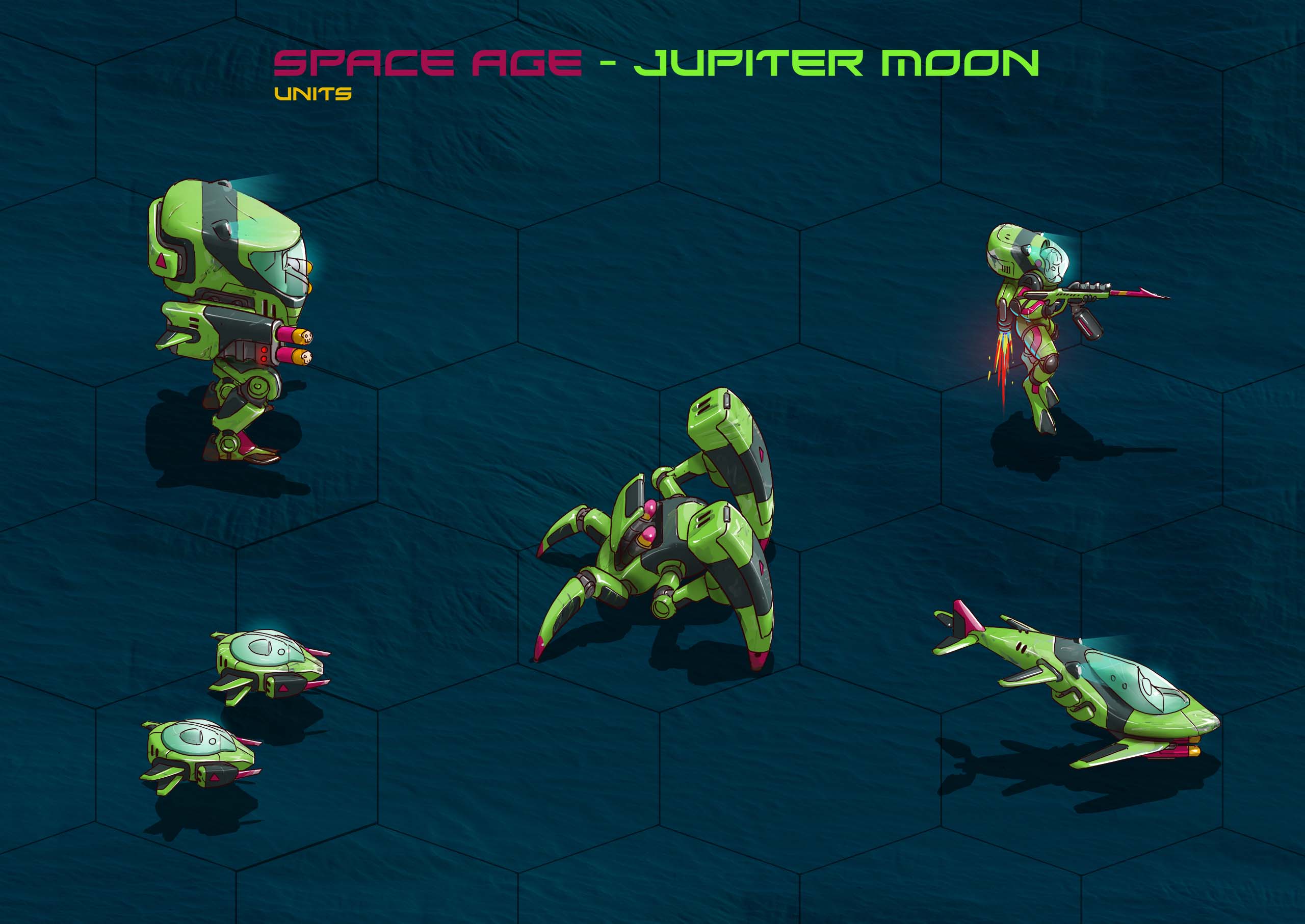 The Space Age Jupiter Moon age brings you:
Your own colony on the Jupiter Moon!
50 main story line quests
45 side quests
15 recurring quests
9 new Avatars
10 new expansions

6 premium expansions
2 tech tree expansions
1 campaign expansion
1 Victory expansion

26 new technologies to research
2 new residential buildings
5 new military buildings with 5 new units (+ Champion)
11 Goods Buildings – 6 of which are Synthesizers
2 new workshop buildings
2 new culture buildings
1 new decoration
2 new streets
1 new Great Building
The colony:
The new under-water outpost at Jupiter Moon becomes available upon researching the first technology on the Research Tree. Please keep in mind that unlocking this new technology, you will grant independence to your previous colony (Venus) and give you access to a new one (Jupiter Moon). With this transition, Venus's outpost will be closed, but its campaign map as well as the story quests will still be available to you. Although, you will not be able to access Venus's outpost anymore, you can still produce goods from this era by unlocking Space Age: Jupiter Moon buildings from the Research Tree.
Once you reach the Space Age Jupiter Moon, your new colony will be accessible through the same Spaceport in the outskirt limits of your own city:
| Space Age Jupiter Moon's Town Hall | Spaceport to visit your colony |
| --- | --- |
| | |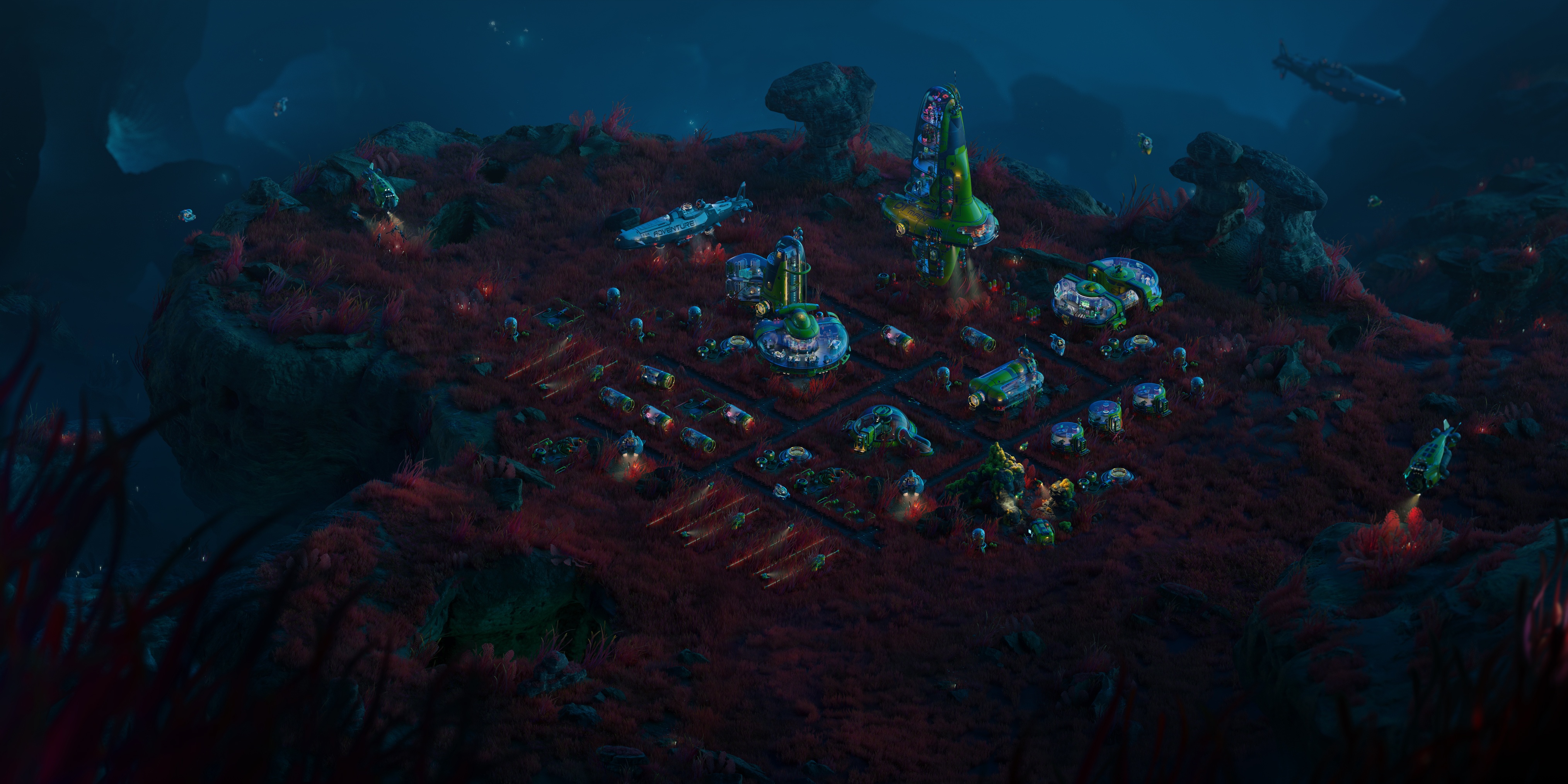 To obtain the new goods that will advance you through Jupiter Moon, you will need the help of your colony as always. The new goods buildings will be built in your colony during the Jupiter Moon age (as you do not yet have the possibility to synthesize them in your main city). In the same way that you needed Venus Carbon to advance through Space Age Venus, you will need Unknown DNA to refine it into the goods. Unlock the exploration sites on the campaign map to obtain Unknown DNA.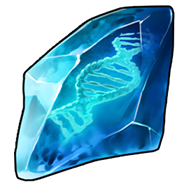 As you know, one of the most important resources in your colony is still your Life Support. You will notice it on the upper left side of your colony and it influences your goods production.
To help your colony to become more productive and successful, you will need to place Life Support buildings like the 'Oxygen Concentrator', 'Organic Oxidator', 'Deep Aquamarine', and, 'Hydrographic Hub'.


​
New Great Building:

​
Great Building - A.I Core (5 x 5)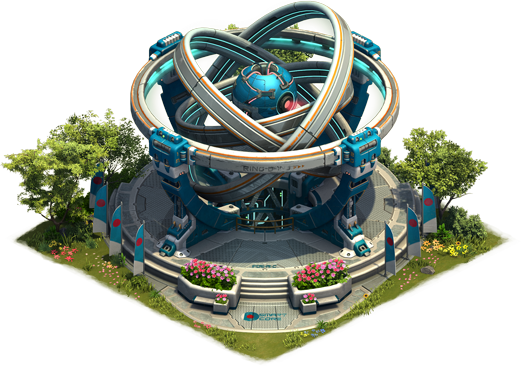 The A.I Core will help you and your Guild with providing some goods into the Guild treasury! Also, it will provide you some special good support! What does that mean? Well, remember how hard it was to collect all the special goods in the past …? With this Great Building, you collect more special goods in the future for a certain amount of rounds! If you have not reached the Age of Arctic Future, don't worry! You will get more supplies for your Journey!
New Units:
All units have the
Keen Eye
ability! This means, upon attacking they have a chance of
35%
to double the damage dealt.


​
Glacier Hiker
Abyssal Glider
Division Drones
Cavitation Tank
Harpoon Grenadier
Champion

Heavy Melee - Absorbs damage points by 2, up to a minimum of 1 damage point.
Fast - This flying unit ignores the terrain while moving. It also cannot be attacked by artillery units.
Light Melee - This sneaky drones will be hiding in Stealth mode in Rubble. They can only be attacked by units on adjacent hex tiles!
Long Ranged (Artillery) - This unit has the bonus "blast". This means that they get a bonus to their attack value for every field closer to their target. It also ignores "stealth".
Short Ranged - This unit will not be peaceful when getting attacked! He will always retaliate against attacks.
Champion - Gains attack and defense bonuses when it's the only unit with Chivalry in your army.

Besides that, the Champion grants attack and defense bonuses to all friendly units when he gets killed.
​
Note: Please remember, that the PvP Tower Tournament only starts the week after the release.
Let us know what you think about the new era and its setting, as well as all the new content. We're looking forward to your feedback! Please post any feedback you have
here
.
Thank you for playing Forge of Empires!
Yours,
The Forge of Empires Team
Last edited: