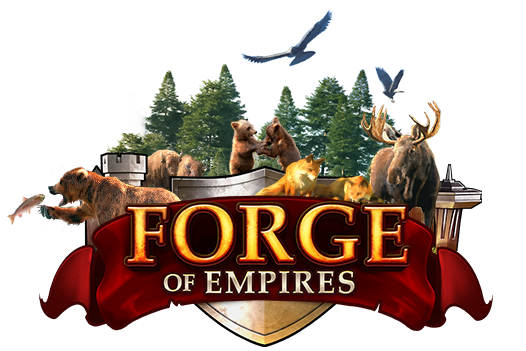 Dear Kings and Queens,
Summer is the time for adventure, and what is a better adventure than a Wildlife Park! Trek through plains and forests. See the beauty of animals thriving in their natural habitat. While the journey will be rewarding in many senses, keen-eyed adventurers may discover a pattern in the Pawprints left behind. Tracking these may lead to secret locations yet unblemished by humans. For any willing to make this journey, there could be some extra rewards in store!
The Wildlife Event is a completely new event for 2021! For this event, we also have a completely new mechanic that we cannot wait to share with you!
The Wildlife Event will begin on July 13th, and run until the 2nd of August!
Start Your Adventure!
At the beginning of the Event you meet Diane, who is a biologist at the Wildlife Park, and responsible for groundbreaking research within her field. As a unique opportunity, she has contracted you in as her assistant and will introduce you to the park workers, animals, and habitats!
As the Main Guest Giver, she will give you 34 rush quests, and 21 daily quests.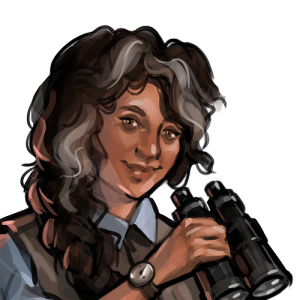 To begin the Event, please open the Event Dialogue, and you will see the Wildlife Event Window!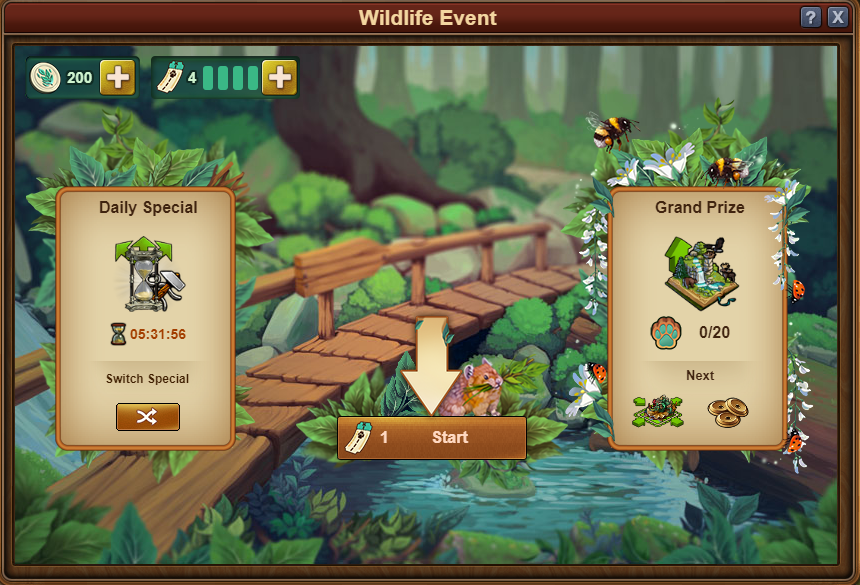 This is where you will begin your adventure, and you will use Entrance Tickets to start playing the Level. The screen will also show your progress toward the Grand Prize, as well as the Daily Special available for that day. Just like in the Archaeology Event, you will also be able to swap it, and this can be done in the Event Window before even beginning a level!
You will start with 4 Entrance Tickets, and you can gain further by completing Quests and Incidents around your City. In addition, they will also replenish over time (similar to tickets within the Soccer Event).
Of course, if you would like more, you can always purchase more at your leisure by using the Plus Button.
Once You Pop, You Cannot Stop!
Once you have used an Entrance ticket, and started the Tour, you will have entered a level. Here is where the fun begins!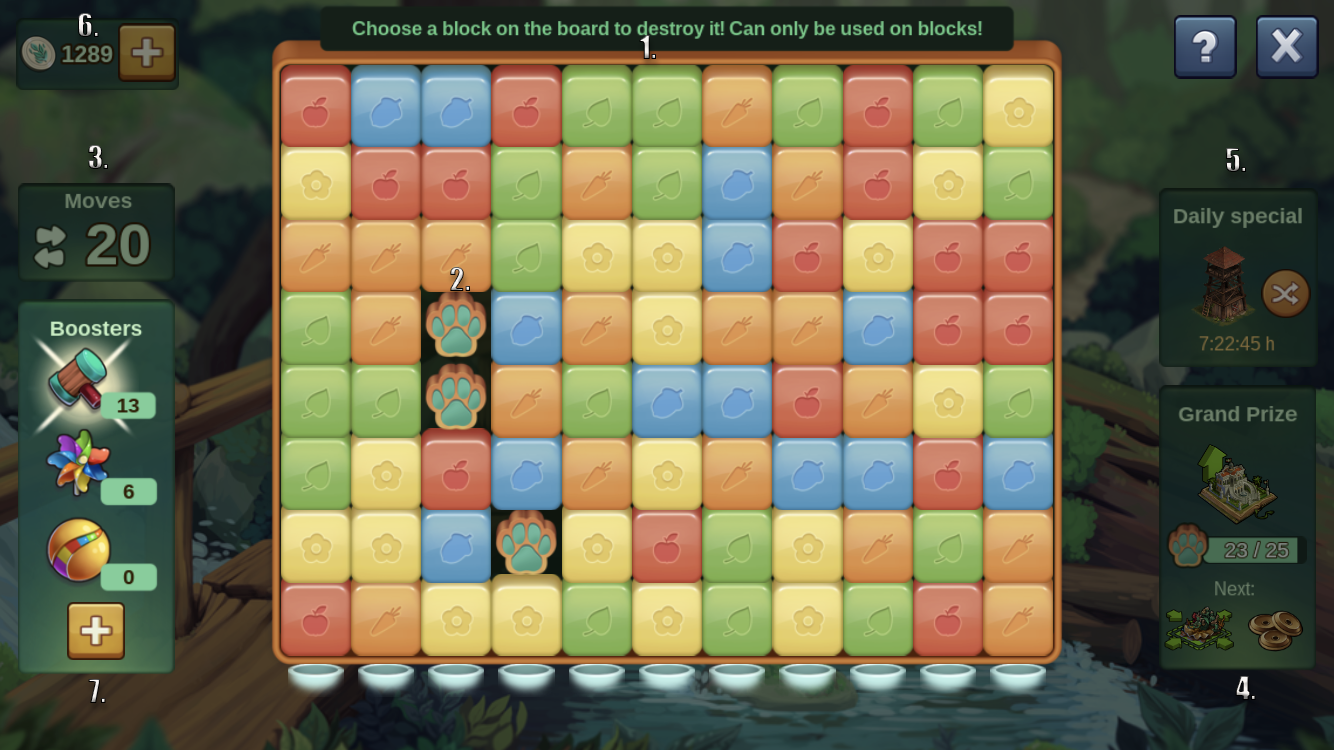 A level has seven main elements:
| | |
| --- | --- |
| 1 - The Board | Where you will pop blocks to gain rewards! |
| 2 - Pawprints | One of the main reward Pieces! You will need to pop blocks to drop Pawprints down and receive them! There are other Reward Chests as well (but more on that later!) |
| 3 - The Number Of Moves | Each pop costs a move. A level has limited moves and will end once all moves are used. |
| 4 - The Grand Prize bar | Shows the amount of Pawprints needed to progress toward the next Reward. |
| 5 - The Daily Special | Is displayed here, and can be switched here once every 24 hours. |
| 6 - Coins | The second Event Currency which can be used to purchase more moves within a Level. Press the plus sign to go to the Shop and buy more Coins. |
| 7 - Boosters | With Coins, you can purchase Boosters which are Special Abilities! Use the Plus Button to purchase them. |
Now that we are aware of our surroundings, let's begin! The Wildlife Event is a Pop 2 mechanic which means you should look out for 2 (or more) adjacent blocks of the same color and type. Once found, you can pop them by simply tapping (or clicking) on them!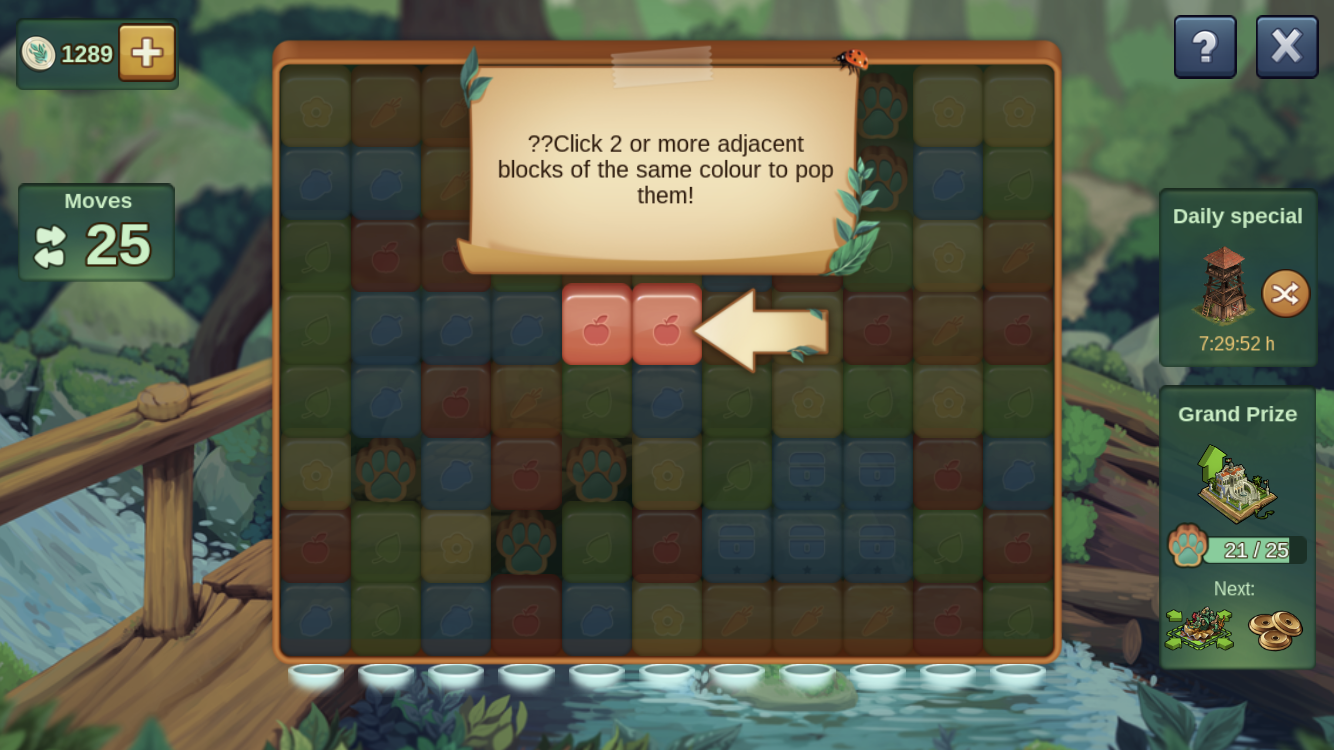 However, matches are not limited to 2. You should be on look out always for bigger pops, with 5 (or more) of the same block, creating a Reward Chest!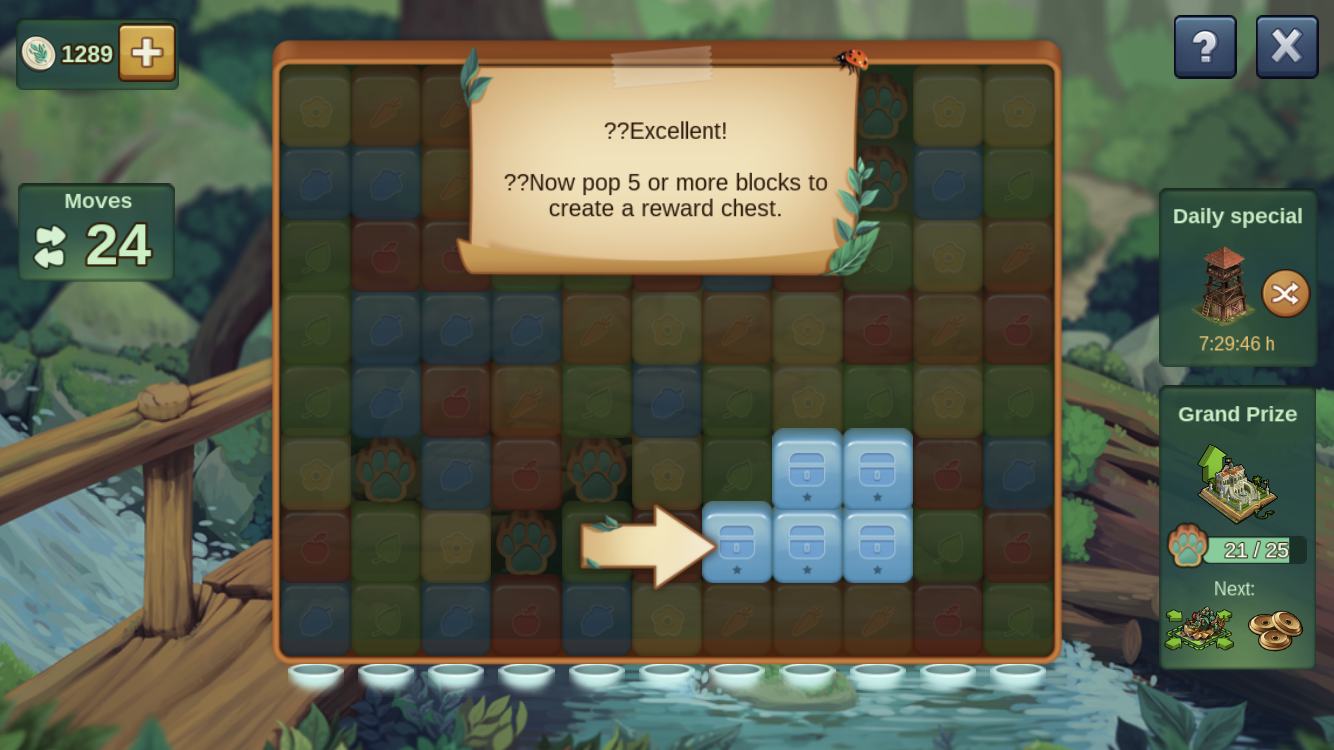 Now that you have created the Reward Chest, you will need to continue popping so that you can drop it below and receive it! Remember pop to drop!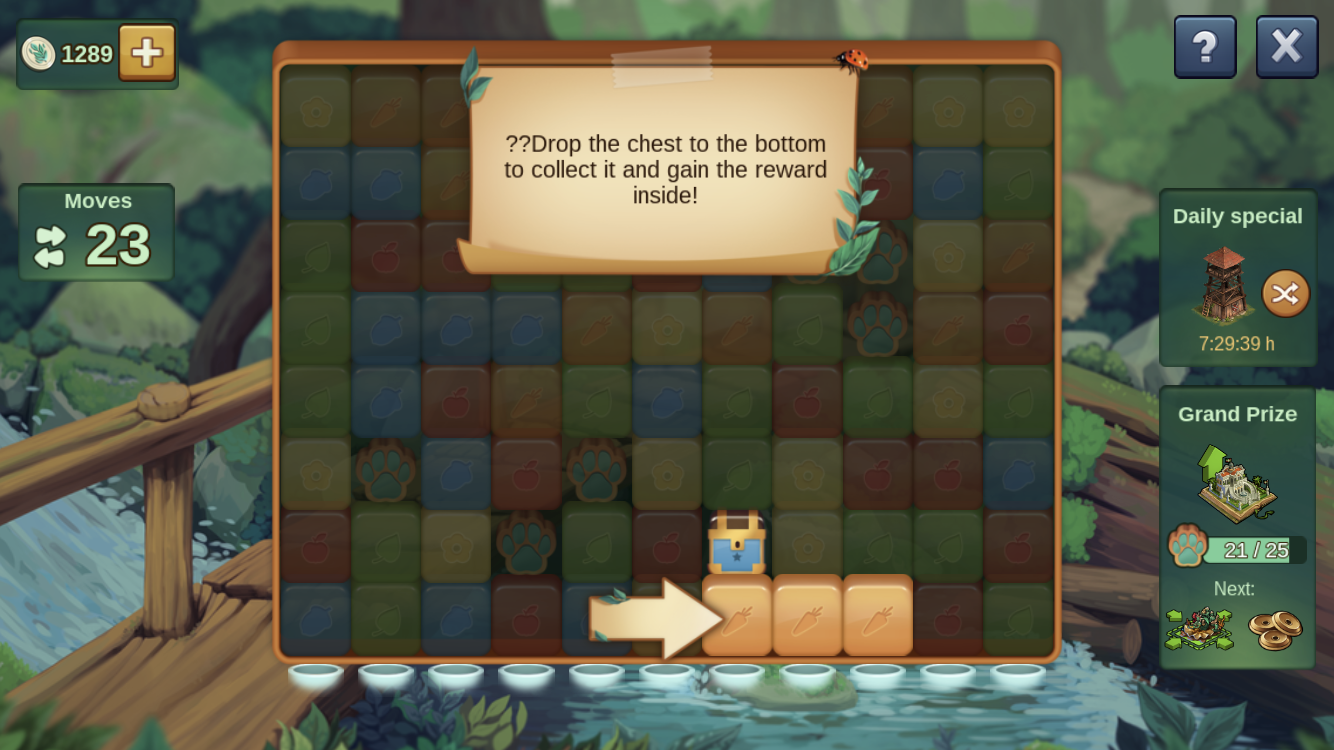 While Reward Chests are important, they will not be your only concern. You will also need to pop to drop Pawprints (to keep making progress toward the Grand Prize).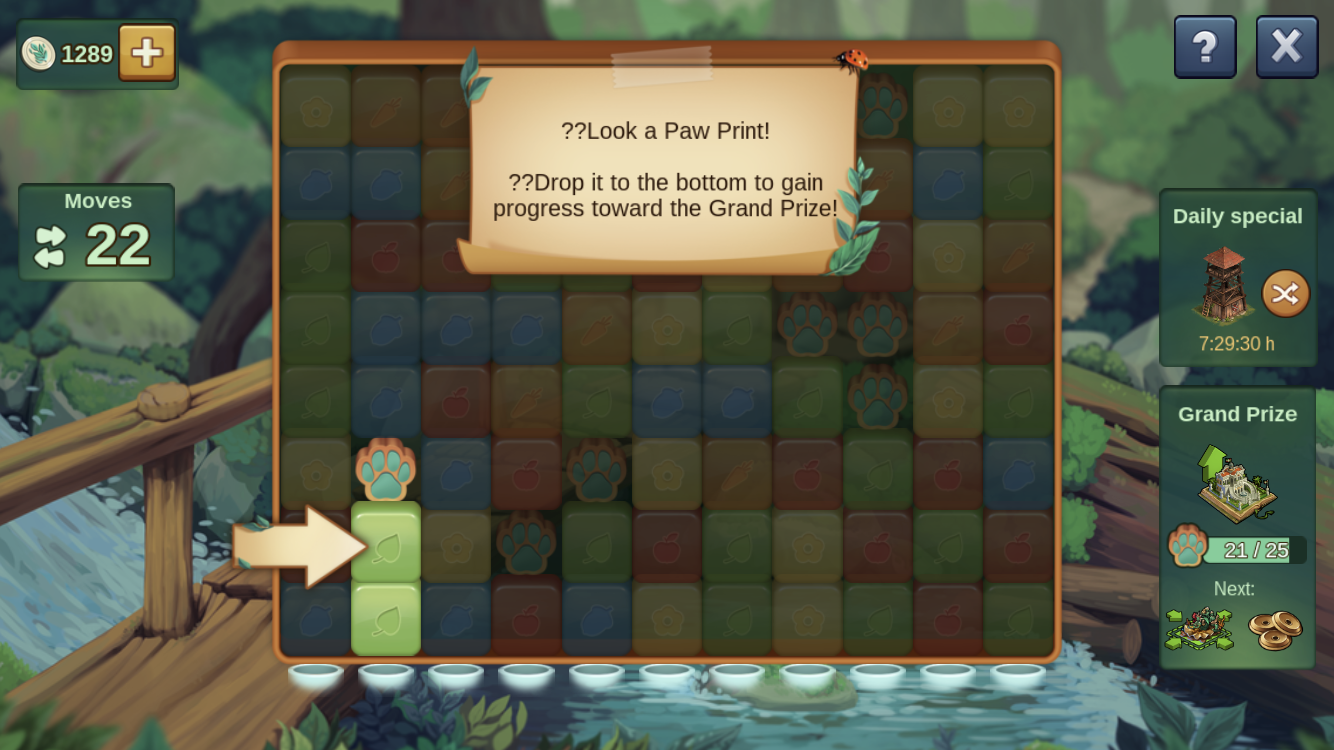 Block Party
There are five different blocks, and each different color type offers a different Reward!
| | | |
| --- | --- | --- |
| | | With five or more matches of the Blue Acorn, you will create a blue Chest Piece which will contain a reward with Forge Points |
| | | With five or more matches of the Green Leaf, you will create a Green Chest Piece which will contain a reward with Coins, Supplies, or Boost & Rush Items. |
| | | With five or more matches of the Yellow Flower, you will create a Yellow Chest Piece which will contain a reward with Goods |
| | | With five or more matches of the Orange Carrot, you will create an Orange Chest Piece which will contain a reward with Medals or Blueprints. |
| | | With five or more matches of the Red Apple, you will create a Red Chest Piece which will contain a reward with Army Units |
In addition, matching more blocks together will also increase the star rating of the Chest Reward. These are rated from 1 to 5 stars, and shown on blocks and Reward Chests (after they are created). Therefore, the bigger the pop, the bigger the Reward!

When playing the Event, you can always check Reward probabilities of each Reward Chest. To do so please hover over the Reward Chest, and they will display. Each Reward Chest (regardless of color) will also offer you a chance at the Daily Special. This allows you to target which Reward Chests you would most like to go after!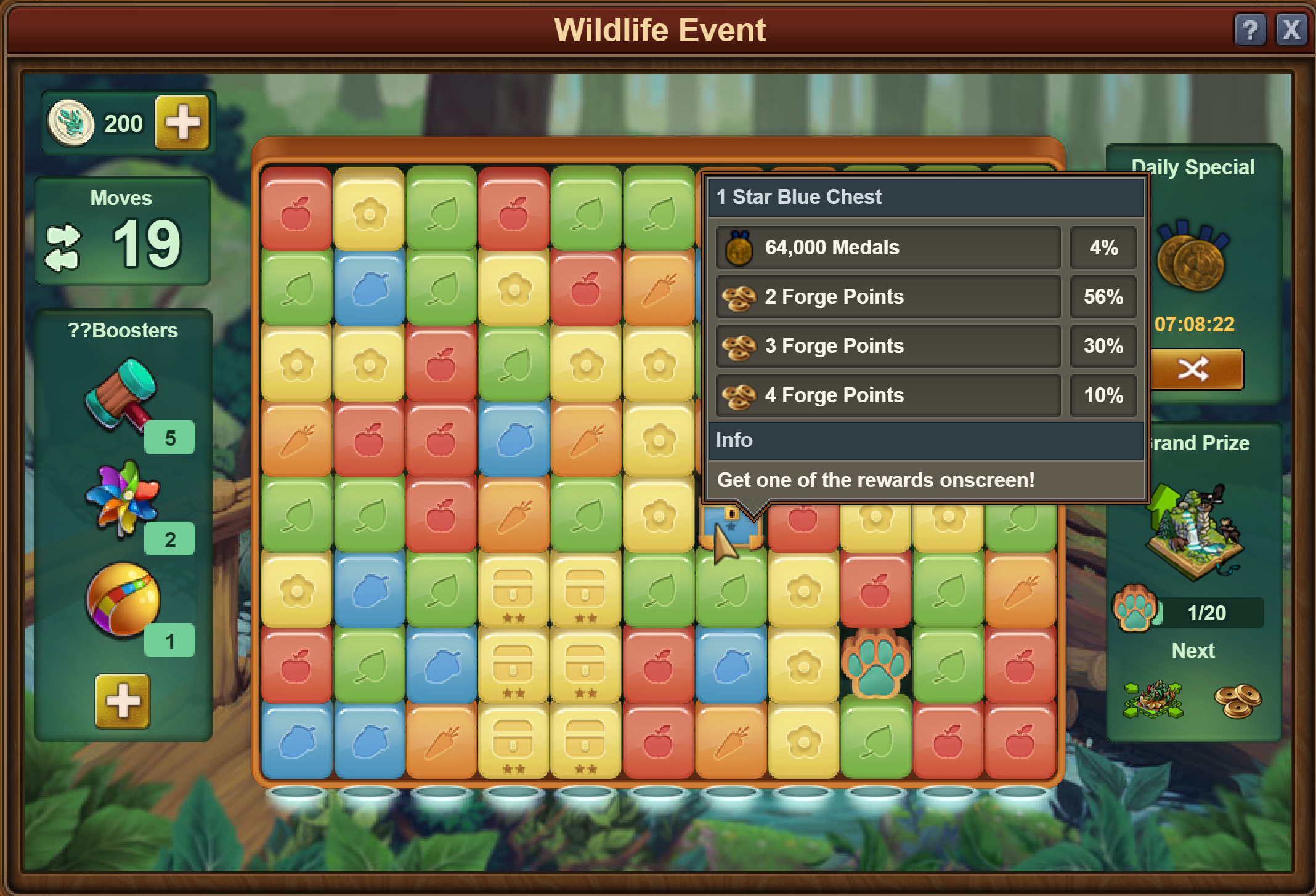 Follow The Footprints
To make progress toward the Grand Prize you will need to collect Pawprints, which automatically spawn on the board as you continue to pop up and free up space.

Tip -
Like a chess grandmaster, try and think a couple moves ahead, so you can navigate these special pieces to the bottom!
Bust A Move!
The number of moves you have per level is finite. Therefore, some strategy is required in terms of when you decide to pop. Do you wait for the biggest possible match before popping a group of blocks (thereby creating a higher quality Reward Chest), or will you go all out in trying to get Pawprints? That is very much up to you!
However, if you do run out of moves, there are still possibilities. When you are completely out of moves, you will be prompted with a dialogue which will allow you to purchase more moves with the second event currency Coins.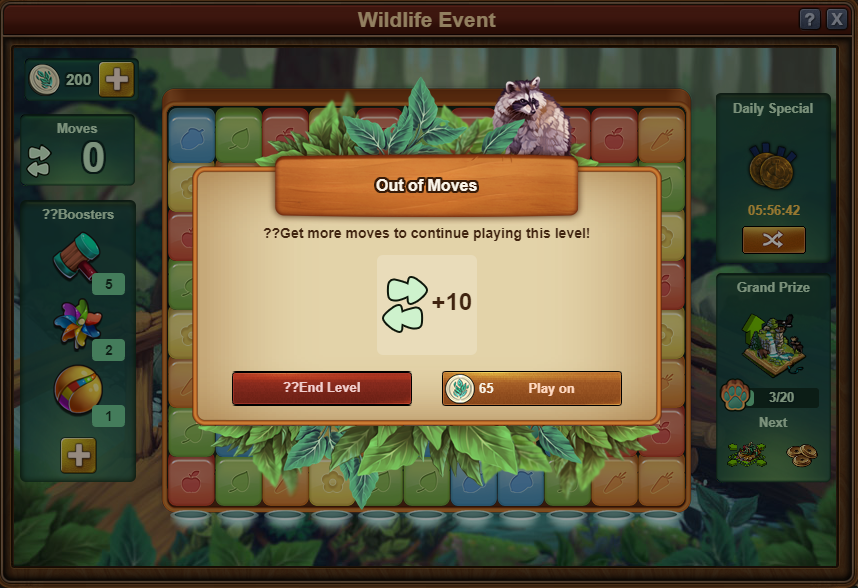 At the start of the Event, you will have 200 Coins, however you can gain further from logging in once per day, as well as completing quests and incidents around your City! Every 65 coins spent will grant 10 additional moves. Use them wisely, and bring those Chest Pieces and Pawprints home!
Of course, more Coins can also be purchased from the Shop by clicking on the plus button here.

An important tip -
Using moves to create Reward Chests and potential new rewards is important, but do not forget you will still need moves to drop them below!
Boosters
Coins can also be spent on Boosters, which will grant you special abilities.
| | |
| --- | --- |
| | With the Hammer you can remove 1 color block from the board. |
| | With the Windmill you can change 4 adjacent blocks to your chosen color. |
| | With Lightning, you can remove all blocks of a chosen color from the board. |
Deadlock Shuffle
If you are out of options, and there are no possible pops on the board - do not fear! The Board automatically re-shuffles, and gives you the option to once again pop more blocks! As long as you have moves, you will be able to pop, and there will be no dead ends.
Grand Prize
You are probably wondering what we have in store in terms of the reward, right? Well, brand-new Event, means brand-new Grand Prize! Allow us to present the Mountain Reserve!
It is a 4x6 Building with 7 levels. From level 1, it will provide Coins and Medals boosts, and when motivated, it will provide Goods and Forge Points. These boosts will improve each time you level up, until level 7, where you will be met with 3 brancheable end choices.
You can select the
Bear Mountain, Moose Mountain, or Eagle Mountain
. Each complete with its own unique bonus, what will you decide on?
Bear Mountain
Moose Mountain
Eagle Mountain

26 Goods & 11 Forge Points
Attacking Bonus For Defending Armies
Defending Bonus For Defending Armies

32 Goods & 13 Forge Points
A Large Supply Boost!

23 Goods & 10 Forge Points
Attacking Bonus For Attacking Armies
Defending Bonus For Attacking Armies
Daily Special
In addition, to the Mountain Reserve, you will be able to win Daily Specials through each Reward Chest that you create and drop. The
Log Cabin
and
Menagerie
are among these Daily Special Rewards. Complete with improved bonuses!
| Log Cabin | Menagerie |
| --- | --- |
| | |
| Improved bonuses with 3 additional Forge Points, and a 10% Supplies Boost | Improved bonus with 25 goods (instead of 10 previously). |
Event Hub Addition - The Visitor's Center
That is not all! As you complete quests during the Event, you also have a chance to win a new addition to your Event Hub!
We are proud to present the Visitor's Center, which will not only provide a cosmetic improvement to your Event Hub, but also will provide a 5-day attacking boost for your attacking armies. This is one that should not be missed!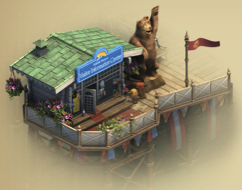 Reward Avatars
Finally, the following new Avatars are available to win by completing quests within the Event!
| Halona (Questline Reward) | Cooper (Questline Reward) |
| --- | --- |
| | |
Should you have any comments, questions or issues, please let us know! We're very much looking forward to your feedback
here
!
In case, you would like to know more about the event, we would also recommend you check out our
video
for the Wildlife Event!
Finally, please keep in mind that you can always test our newest features in advance by using our Beta Mobile App. For more information on how to install it, please follow
this guide
.
Thank you for playing Forge of Empires!
Sincerely,
Your Forge of Empires Team.
Last edited by a moderator: