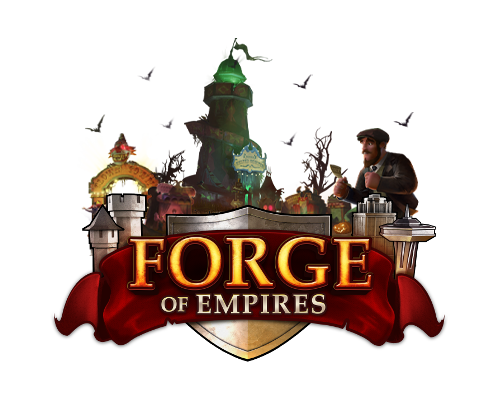 Hello Boos and Ghouls,
Trick, or Treat? Before you answer, realize that this year, we have plenty of both in store!
Join us once again at the spookiest of fairs, and see whether you will be able to find your way through the misty labyrinth!
The Halloween Event will start on the 28th of October, and will run until the 17th of November!
The Basics
Unfortunately, you have trusted the Ringmaster once again. A terrible mistake, you came looking for some chills and thrills, but are now lost in a spooky and abandoned fair. A dense mist surrounds you, and you can hear the voice of the Ringmaster in the distance.
While he may not be the most reliable guide, it may be your only escape!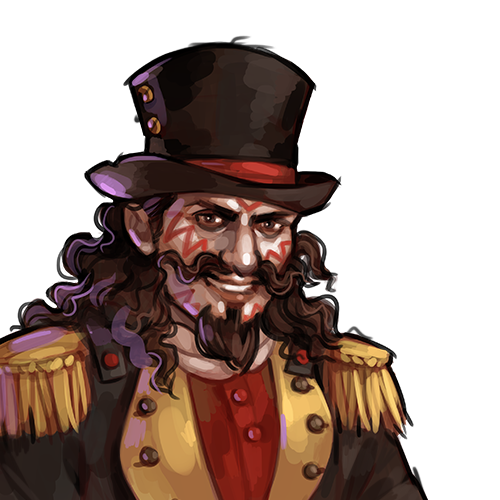 Ringmaster will provide you with 30 rush quests, and 21 additional daily quests. From these quests, you can earn Fairground Tickets, which can additionally be earned through logging in once per day, and completing incidents in your city.
Fairground Tickets, once earned, can be used to purchase sources of light, which can disperse the mist and help forge a path through this darkest of places.
| Candle | Flashlight | Lantern |
| --- | --- | --- |
| | | |
| Disperses one fog tile. | Disperses an entire column of fog (when not blocked). | Disperses 8 surrounding fog tiles. |
Important Tip
- The
candle
can be used on each individual fog tiles, to disperse them, but the
flashlight
and
lantern
must be used on an empty tiles.
Eyes on the Ground!
When navigating in low visibility, it is always good to mind your feet and to know where they are going, but within the Halloween Event, it is also key to finding lucrative rewards! Indeed, as you make your way, you will find many items on the floor worth your attention!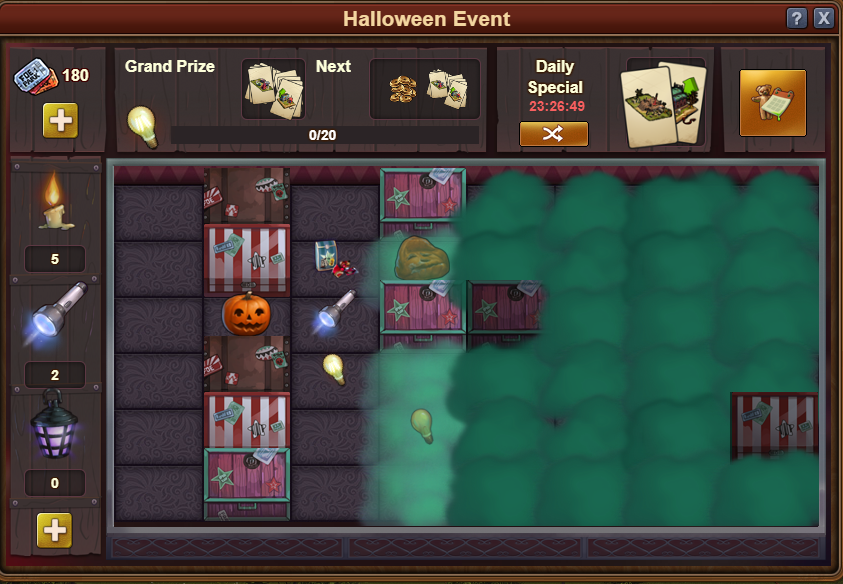 The first are pumpkins, which will contain a random reward (as well as a chance at the daily special). Secondly, there are Lightbulbs which will help you make progress toward the Grand Prize!

Yet, that is not the only thing you will need to watch out for!
Just like last year, you will find Toy's strewn throughout the fair, which will unlock special additional quest lines. The completion of these, will provide some frighteningly good rewards, and earn you the fairground findings achievement!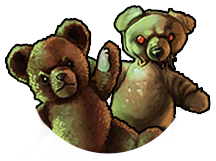 ​
Finally, there is one further thing you should always be on the lookout for - Daily Stickers. These can be spent in the Reward Calendar, which is completely new to this year's event! Each sticker is unique, and will open one of the 21 slots within the Calendar! Each one opening a unique reward!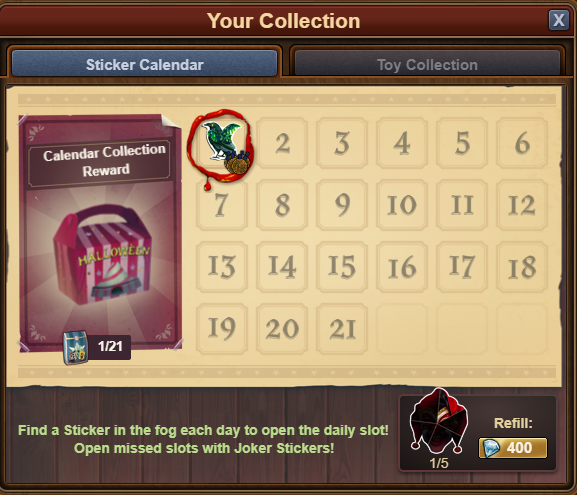 You are probably wondering what happens if you miss a day? While there are plenty of things to be afraid of within the Halloween event, missing a daily slot within the Reward Calendar is not one!
Joker Sticker Pieces can always be found throughout the event, as well as won in Daily Challenges. Once you have enough of them, you can piece them together, to make a full sticker and open a slot that was previously missed.
These are key, as you will definitely not want to miss out on the reward for completing the Calendar! Within, are two selection kits, a unique avatar, and a host of other items!
Rewards for 2021!
Now that we are all out of tricks, you are probably wondering what are this year's treats?
This year, we have not one, but five different unique event buildings! Each of these Horror Circus buildings can be upgraded two levels, have a base bonus, as well as different connector bonuses as part of a set (with different bonuses being provided, as you connect more buildings within the set). Therefore, individually they could be lethal, but as a set, positively deadly!
Helter Skelter (3x3)
Clown Town (5x2)
Wheel of Death (2x1)
Mystical Organ (3x1)
Terror Teacups (2x3)

Base Bonus: Coin Production
Set Connector Bonuses:
1). Medals Collection
2). Goods Collection
3). Forge Points Collection
4). Goods Collection

Base Bonus: Coin Production
Set Connector Bonuses:
1). Forge points
2). Goods collection

Base Bonus: Medals
Set Connector Bonuses:
1). Medals Collection
2). Forge Points Collection

Base Boost: Happiness
Set Connector Bonuses:
1). Coin Production Boost
2). Attack boost for Defending Armies
3). Defensive Boost for Attacking Armies

Base Boost: Happiness
Set Connector Bonuses:
1). Defensive Boost for Defending Armies
2). Attacking Boost for Defending Armies
3). Attacking Boost for Attacking Armies
Daily Specials Rewards
That is not all! Within the Daily Specials you can win event buildings from the previous event including - The House of Horrors, and The Abandoned Asylum!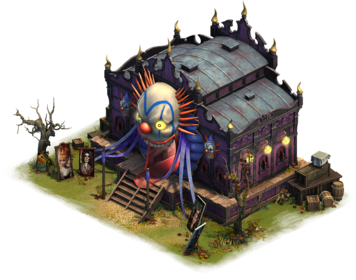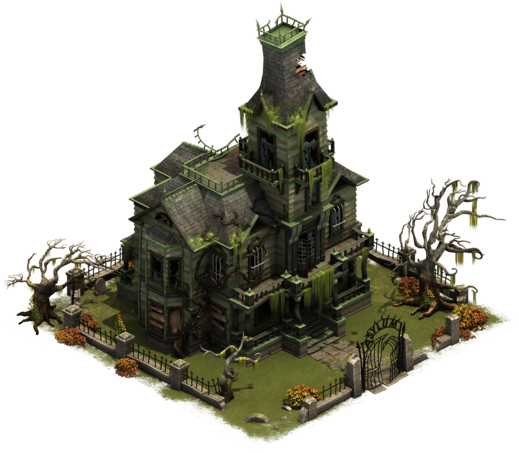 Event Hub Addition - Hellish Hangout
In addition, successfully, completing quests within the event will reward you with you the 'Hellish Hang-out.' Be assured, your enemies will be terrified of the 4-day 20% attacking boost for your defensive armies!

Reward Avatars
Lastly, you will also be able to win the following reward Avatars within the event. Two can be earned in the Quest line, one for completing the Reward Calendar, and the final for completing the Toy Quest lines!

Should you have any comments, questions or issues, please let us know! We're very much looking forward to
your feedback
!
Finally, please keep in mind that you can always test our newest features in advance by using our Beta Mobile App. For more information on how to install it, please follow
this guide
.
Thank you for playing Forge of Empires!
Sincerely,
Your Forge of Empires Team.
Last edited by a moderator: