Get ingredients from quests, Daily Challenges and incidents. Use them for baking, fill the whole table and get awesome rewards!
​
Welcome to the great Fall Bake Off!
This year, you take part in a baking competition where you need to collect all the ingredients needed and bake as many recipes as possible! There are awesome prizes to be won, so make sure to take this opportunity!
The event starts
on Wednesday, 12th of September
, so you will soon be able to jump right into it
.

Watch our video where our game designers explain this year's Fall Event
.
Remember that you can enable subtitles!
​

​
So this year it is all about baking!
As mentioned in the video, in order to bake you need ingredients. The most reliable way to get them is completing the Fall quests (although you will find some also in the incidents in and around the city, as well as in the Daily Challenges). You will get 54 quests that you can complete right away (as two parallel questlines - the second one will show up after completing the first four quests). Once you've completed all of them, you will be getting one quest per day, for the remainder of the event. You will probably have a few of them stacked when you get to them, as they start stacking up starting on day one.
When you start baking, you will not only get one of the possible rewards that it comes with each recipe, but also one, two or three stars. All the stars you collect throughout the event count towards your rank in the Bake Off League Table! You can access it by clicking the button in the top left corner of the event window: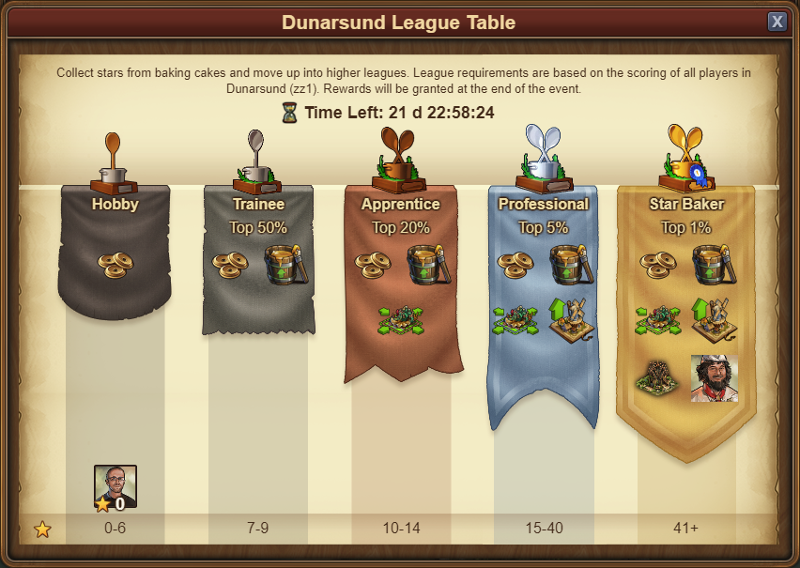 The more stars you collect, the higher you get in the leagues! There are 5 leagues, and the requirements for each league is determined by stars collected by all players in your game world. For example, the top 1% of players who have collected the most stars are placed in the top league, while the bottom 50% of players who collected the least stars will appear in the lowest league.
If you stay active during the event, you are likely to climb up the league system, while a lower level of activity will result in falling down in the league. As the event progresses, the number of stars required for each league will also change as players collect more and more stars, so make sure to keep an eye on the amount of stars you need to reach the next league!
At the end of the event, everyone will receive rewards according to the league they are in.

​
As mentioned in the video, the event comes with some brand new
desirable rewards!
Click on the images of each building to see their stats on our
Wiki

Pond of Fall
3x4 - Culture building
Provides happiness and a defense boost. The output does not depend on motivation.

Forest of Fall
2x2 - Residential building
Produces coins. Additionally, produces medals when motivated.
And finally, let's have a look at the brand new
Mill of Fall
, a 7-level building with three different options at level 7: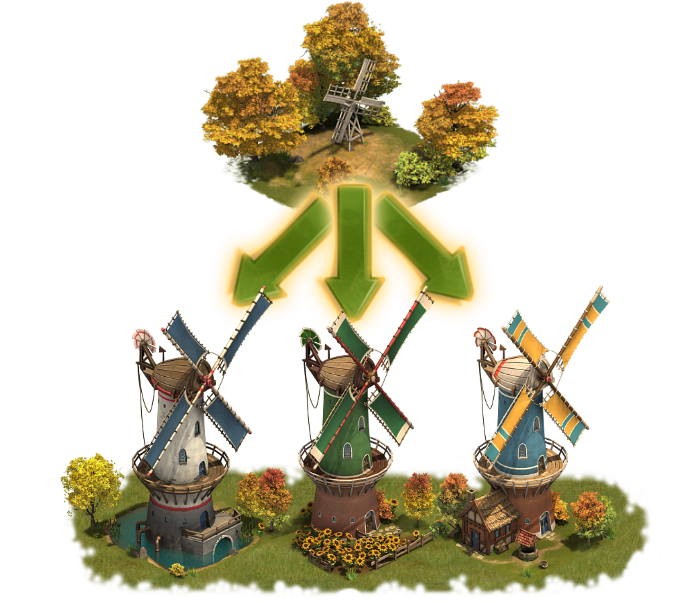 Mill of Fall
3x3
The Mill of Fall is a special upgradable building. Once you have gotten it to the level 1, you will then have a chance to upgrade it up to five times. Once you reach level 6, you will be able to upgrade it one more time, but at this point you will need to make a choice between three options: Aqueous, Sunflower or Colorful Mill of Fall. Each of them provides different output, so it is up to you to make the choice!


Naturally, in order to upgrade the Mill of Fall, you will need to use The Mill of Fall Upgrade Kits. In order to get as many as possible, advance through the questline and bake recipes!

The newest available level of the Cider Mill is the Prosperous Cider Mill, and it became available already with the last game update. During the event, you'll get the chance to pick up some Cider Mill Upgrade kits to reach it!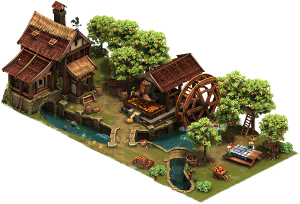 The Prosperous Cider Mill
(6x3) offers an increase on each of the previous Cider Mill's production output.​

And of course - as mentioned in the video - you will be able to shrink your Rogue Hideouts:




Rogue Den

​


The Rogue Den has exactly the same values as a the original Rogue Hideout, but is smaller (2x2)! The only way to get it is by shrinking an existing Rogue Hideout with a Rogue Hideout Shrink Kit.


The kit can be obtained as a Grand Prize Reward, and you will also find it among Daily Specials.
You will also have a chance to get some Fall-themed avatars for your account:


​
And that's still not everything!
As you could see in the video, when baking recipes, you will sometimes find a new kind of reward called "
fragments
". These will be fragments of two buildings: either the Shrine of Knowledge or the Wishing Well.
Fragments are a new way of collecting rewards over time. We've seen how many players appreciate progress-based rewards in events, and have decided to introduce a new way of making progress towards some of the most desirable ones (as opposed to either getting one, or getting nothing).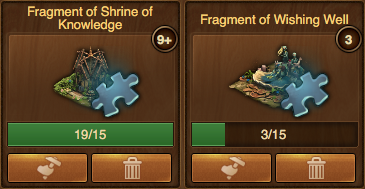 Collect 15 fragments of the same building, to combine them into the actual building to place in your city.
Don't worry - you'll of course also still find Shrines of Knowledge and Wishing Wells in the usual places as Daily Specials and Grand Prizes.

​
We hope you enjoy our new event! It will conclude on the
3rd of October
.
As always, your feedback is very important for us, so don't forget to comment
here
! Thank you for playing Forge of Empires, and happy Fall!
Yours,
The Forge of Empires Team

PS If you have any questions, you can ask the event creators directly! We will host a Q&A session that will take place on our International Facebook page and Instagram on Thursday (September 13th) at 5:30 PM CEST. See you there!
Last edited: