FoE Team
Community Manager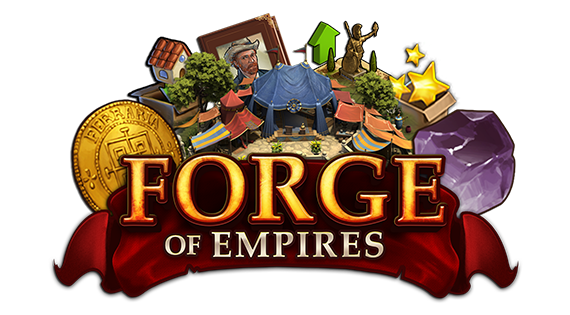 Going once. Going twice. Sold! The Antiques Dealer has come to town!

What is the Antiques Dealer?
The Antiques Dealer is a brand new feature in Forge of Empires which aims to help players use items in their inventory which have succumbed to the dust of ages past! The Antiques Dealer loves to collect artifacts from Forge's history, and will pay a pretty penny for the rarest finds!

Much like the Friend's Tavern, The Antiques Dealer will appear in your city as a ruin if you have not unlocked it. When you research the technology Economics in the tech tree, you will gain access to this feature. Once unlocked you will see on the outskirts of your city, just next to your Friends Tavern, a collection of tents which house the Antiques Dealer and his auction house. Our game designer, Kurt, introduces the feature in our latest video, check it out:
​
Exchange your unwanted items!
Select unwanted items from your inventory and offer them to the Antiques Dealer in exchange for Trade Coins that you can use within his shop. More valuable items will also provide you with a chance to earn rare and coveted Gemstones. You can increase the output of your exchange by taking more time to barter with the dealer, or accept a lower output to quickly earn your Trade Coins and Gemstones! Choose from
2
,
8
or
24
hours
to breakdown your items. You can also boost your output from the breakdown with Diamonds!

To start a breakdown, click on the Antiques Dealer's tent, and then click on the hand icon on the right side of the screen.
Click on the plus sign at the top, to choose which item you want to breakdown. More slots can be unlocked by performing breakdowns, meaning the more you use the feature, the more efficient your breakdowns can be!
​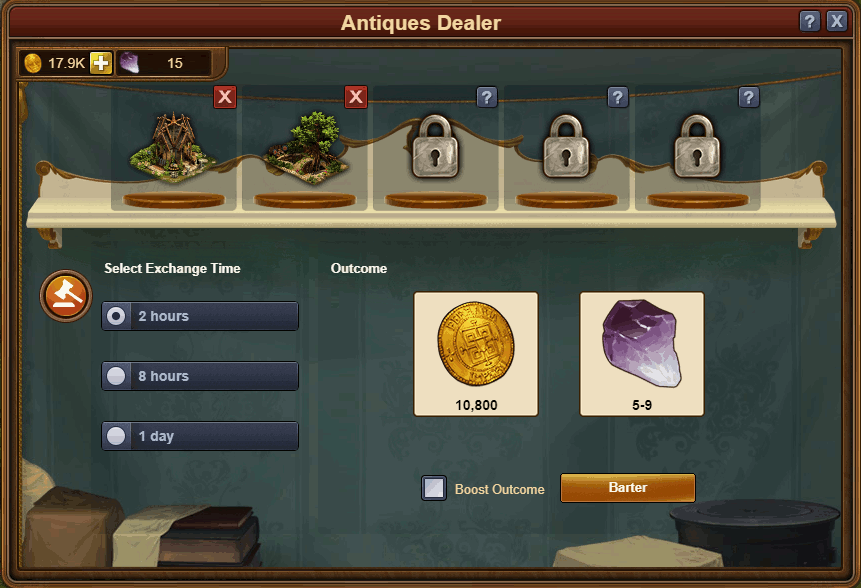 Once you've selected which item you want to breakdown, select the Breakdown Timer you want to use, and then click Barter. The estimated value of the breakdown in Trade Coins and Gemstones can be seen on the right side of the window before you start the Barter Process. Once you start breakdown process, your items will be removed from your inventory. If you change you mind, you can click cancel up to the point the timer runs out! Doing so will return the items to your inventory, so don't worry, you wont lose anything (except time) if you change your mind. If you want to speed up the process, you can instantly complete the breakdown with the help of Diamonds!

Trade Coins
- a currency you can earn from breaking down items in the Antiques Dealer. These coins can then be used to make purchases from his shop, or even bid in one of his exclusive auctions! Trade Coins can be purchased for Diamonds.

Gemstones
- a currency you can earn from breaking down more valuable and rare items in the Antiques Dealer. Gemstones can then be used to make purchases within his shop. Gemstones can not be used in the Auctions, and also can not be purchased for Diamonds.
When a breakdown timer is running, a timer will appear over the Antiques Dealer in your City, which helps you keep an eye on it's progress! Once the breakdown process is done, click on the collect button to receive your Trade Coins and Gemstones!
Lastly, you will notice in your inventory, the delete button has been replaced with a button which directly takes you to the Antiques Dealer. This should make sure you don't accidentally delete the valuable items you can exchange. Of course, the delete button still exists for items which cant be exchanged via the Antiques Dealer, such as Forge Points packs or Fragments!
Shop for a bargain!

So you've exchanged your old and dusty Face of the Ancient for some Trade Coins, now what?! The Antiques Dealer has a deal for you. Click on the building in your city to see what he has on offer. Some items can be bought with just Trade Coins, whilst more valuable items require Gemstones too. Don't see anything you like? The shop refreshes regularly, so be sure to check back, and not miss out on your favorites. If you're after something specific, you can also refresh the shop instantly for Diamonds.
​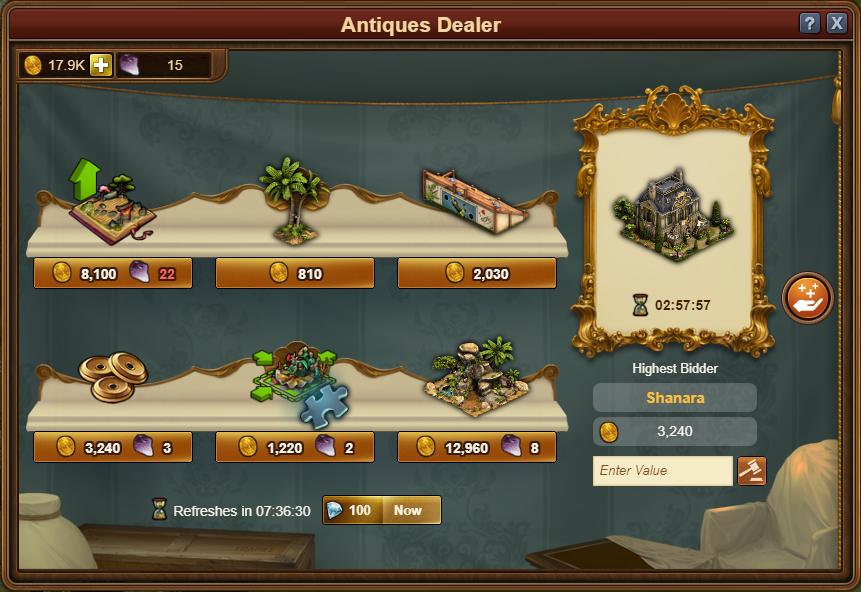 What about if you see something you really want, but you don't have enough Trade Coins? Fear not, you can buy additional Trade Coins for Diamonds. However, Gemstones can only be earned by parting ways with your rare inventory items, and can't be purchased for Diamonds.

Sold to the highest bidder!

The Antiques Dealer, as a connoisseur of all things Forge, also offers you the opportunity to win some exciting items, as well as some which are exclusive, by bidding in his auction. Bids can be made with Trade Coins only, and you're bidding against other players! If you're outbid, your Trade Coins will be returned to your stock for you to spend on another bid, or other items if you decide the price is too high. The player with the highest bid at the end of the auction wins the item. Also, if you bid within the last 30 seconds of an auction, the timer will reset to 30 seconds, giving others the opportunity to make the Dealer a better offer, so make sure you stick around until the last second if you want to ensure you're the winner!
​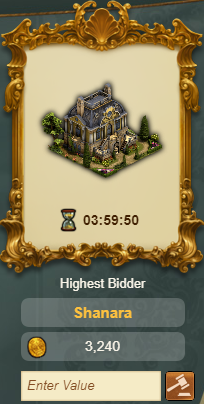 So, what are you waiting for?! The Antiques Dealer is active in your city right now! Go get yourself some awesome prizes.
You can leave your feedback in the thread
here
Thank you!
The Forge of Empires Team​
Last edited by a moderator: