FoE Team
Community Manager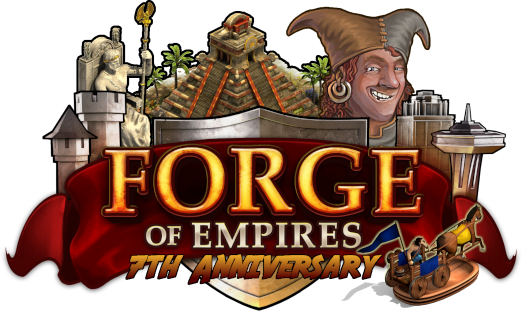 Greetings, Queens and Kings!
It's been 7 years since Forge of Empires came out on the
17th of April, 2012
and a lot has changed since then. New ages, new cultures, events and inhabitants all made their mark on the game over the years - and many more are still to come!
To celebrate, we've prepared something special for 7 days for you -
beginning with April 17, 2019.
Follow the link below to see the special image we have prepared for you. Each of the 7 parts of the image will bring you to a different thread, but they will only unlock on the day.
Don't forget to take a special look at the second day, as something will be hidden for all of you on April 18, 2019!
​
Most of those days will have a puzzle for you to solve - and something special to win, too!
Click here to access the contest page
.
Thank you for playing Forge of Empires!
If you wish to leave any feedback about the Anniversary Contest, please click
here.
Sincerely,
Your Forge of Empires Team
Last edited: